The Columbus Scholars monthly enrichment session was held at the Center for Civil and Human Rights in Atlanta on Saturday February 27.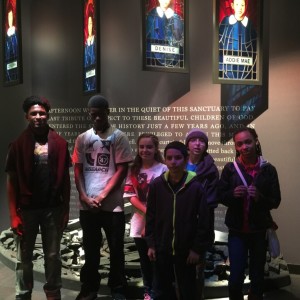 Many scholars said the visit was an intense yet educational experience. The Center, which is essentially a museum, consisted of many different displays that addressed a variety of subjects. Most of these subjects revolved around the issue of inequality. There were also many interactive exhibits that kept the tour interesting.
One section of the museum was centered completely around embracing who and what you are. A ninth grade scholar, Jasmine Simpson, said: "[People] will be able to look at this display and have a change of heart." In this exhibit you were given the opportunity to take your own picture and complete the sentence "I Am…" as a caption.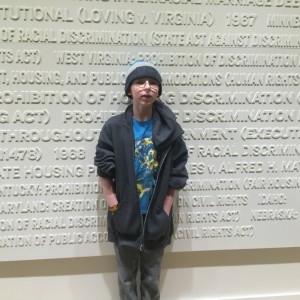 A tenth grade scholar, Chanyha Cobb, called the trip "a very empowering experience."
Another exhibit in the civil rights museum simulated the experience of being an African American sitting in a diner while being tormented by words and acts of prejudice and hatred. The situation is supposed to feel as realistic as possible. It features sound-canceling headphones and physical vibration effects. A tenth grader, Mallory McKelvey, said: "It made me extremely angry.The scholars agreed that the trip to the Civil Rights Museum was in all a positive visit. New things were learned, and helped to open everyone's eyes to our American past, and how far we've come. They explored the both impressive and emotional exhibits and left with a new understanding of the importance of civil and human rights.
The scholars met at the Mildred L. Terry Library on Veterans Parkway at 7:15 a.m. to set up before they actually boarded the bus to take on this adventure. Once everything was in place the bus left for Atlanta around 8:00 a.m. Upon arrival the scholars entered the museum "curious" according to McKelvey.
They then got on the bus once again and left to grab lunch in Newnan, Ga. before heading home.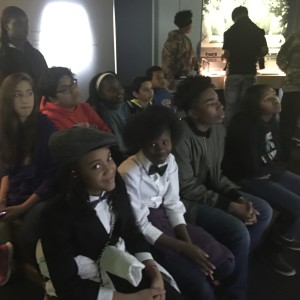 The inspiration for this enrichment session came from Columbus Scholars board member Karl Douglass. He explained his idea for the session: "I wanted the scholars to tour the Center for Civil and Human Rights because I wanted to make sure that they have a chance to acknowledge and appreciate the sacrifices people make to secure their human rights."
Bianca Brown, also a Columbus Scholars board member, said: "Because the enrichment session was in February, Black history month, we wanted to incorporate civil and human rights and also do something more interesting and different."
Chelzi Williams, who is a 6th grader at Richards Middle School, attended the session. "The museum was very interesting. I liked it," Williams said.
There was a simulator where you could hear how rude and mean some people were during the Civil Rights Movement.   "They were kicking the chair and smashing bottles; it was intense," Williams said.  She also liked how the museum had videos and lots of pictures from back then. "The story of the four little girls was so tragic," Williams said.
By Emily Lopez and Chanyha Cobb