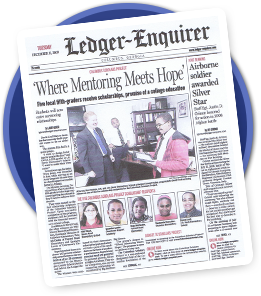 Where Mentoring Meets Hope
Americans believe fundamentally in opportunity, and that each of our nation's children should achieve to the highest limits of his or her character and intellect. This is true from shore to shore, from North to South. It is true in Columbus.
But poverty and lack of parental involvement often create an achievement gap between ability and performance. The most effective way to close this gap is by providing long-term mentoring and guaranteeing college funding for deserving students.
Click here to read the Ledger Enquirer Feature Story >>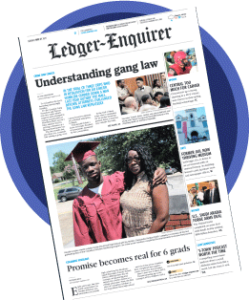 Promise of Columbus Scholars comes to fruition with graduation
Eight years ago, the nonprofit corporation Columbus Scholars was established to provide high-achieving but disadvantaged Muscogee County School District fifth-graders the advantages of mentoring and money for a better chance at a college education. Now, the first class of Columbus Scholars is set to graduate from high school – and six of the seven members have completed the requirements to receive that promise.
Here's how one of them did it.
Click here to read the Ledger Enquirer Feature Story >>